The IAP conducts a comprehensive on-line interview of BOTH the employee and the spouse/partner.
The ARF Chart™ (Assignment Risk Factors Chart) identifies the basic areas that are at risk in the assignment.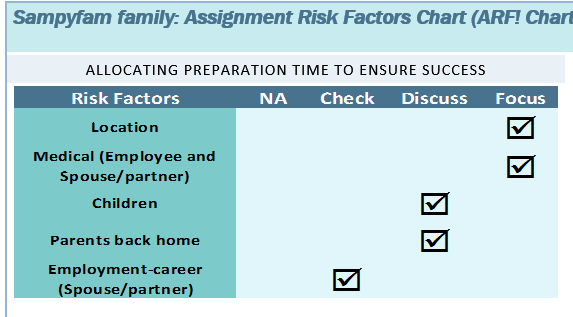 The ARF Chart™ results from an intensive AI (Artificial Intelligence)review of the complete data set obtained from the family during the on-line interview.
Once these key areas of assignment risk are identified, the various sections of the IAP allow for "drill downs" to get specific information that is used for planning, education, and support.
The IAP interview is an expert system created after analyzing the interview behavior of experienced expat counselors and coaches. A wide variety of information is gathered and analyzed by comparing the expat or family's information to a large database of over 2000 actual expat families.
Areas included:
Basic background information, expat experience level, medical review and plans
Management and working considerations (employee)
Career and job considerations (spouse/partner)-one of the key areas identified in compromising assignments or even refusing assignments.
Familiarity with the culture
Medical needs and planning
General needs and priorities compared to international families: what's especially important to this family's success
Specific, prioritized issues and matches with the actual location
Detailed "drill down" matching charts for discussion
Children going on the assignment: information and action summary
Children not going on the assignment
Back home parents' issues
Pets going!
Detailed info about coping styles and behavior
Family strengths and challenges
Important "heads up" reminders
The IAP on-line interview replaces over FOUR hours of experienced coach/counselor interview time and provides a thoroughly analyzed, prioritized listing of key issues that become the basis for efficient and effective pre-assignment preparation.
The coach/counselor spends the time with the family crafting solutions, not merely discovering problems!
The IAP is a tool to be used in a support program. If you need a complete program or support package, we have that ready for you!